Automotive Control Application Requirements
In Automotive Control-related applications in public transportation systems, the main requirements of the products are high reliability (shockproof, waterproof), communication (wireless apply), etc. With the support of the controller, in addition to the original operation work, also can sharing and analysis the data at the same time; while the public transportation system is running, the relevant data or location can be recorded from the industrial computer on the car, and through the readers installed on the traffic vehicles with the RFID, the traffic information can be quickly obtained and then sent to the various control center.
---
Load Dump Surge Protection Circuit Design
In automotive electronics, transient power surges may cause permanent damage to electronic equipment. Quick changes in the power supply in certain specific scenarios are more likely to cause damage to the equipment. The ISO 7637-2 and ISO 16750-2 tests have formulated relevant specifications, such as corresponding power supply test requirements in scenarios like sudden load changes, reverse battery connection, and overvoltage. The emphasis is on testing the anti-interference ability of electronic equipment under these power transients. Sufficient protective measures must be reserved in the hardware design to suppress these extreme power supplies' impact.
Extended Reading: ISO_7637, ISO_16750
---
VDX3-EITX, an SBC with load dump protection circuit design has passed ISO 7637-2 and ISO 16750-2
VDX3-EITX, an industrial-grade single board computer designed with a load dump protection circuit, prevents the effect of large voltage spikes and has passed ISO 7637-2 and ISO 16750-2 certifications (Standard Certifications for passenger cars and commercial vehicles). VDX3-EITX uses DM&P SoC Vortex86DX3 1GHz processor, supports 2GB DDR3 memory, SATA DOM, and Compact Flash as the default storage device.
The I/O interface of the VDX3-EITX includes LAN, Giga LAN, VGA, 24-bit LVDS, RS232/RS485, USB, CAN bus, Audio and DIO; The operating temperature range is -40°C to +85°C and supports +12 to +24 VDC power input. Utilizing the I/O support of VDX3-EITX, you can achieve alarm (USB), broadcasting system (Line-in/out), GPS (RS-232/485), POI (LCD), door control (GPIO), Car Dashboard (CAN bus), RFID application (RS-232/485), and then the traffic information is transmitted to the traffic control center and cloud information platform using WLAN so that all passengers can find relevant information.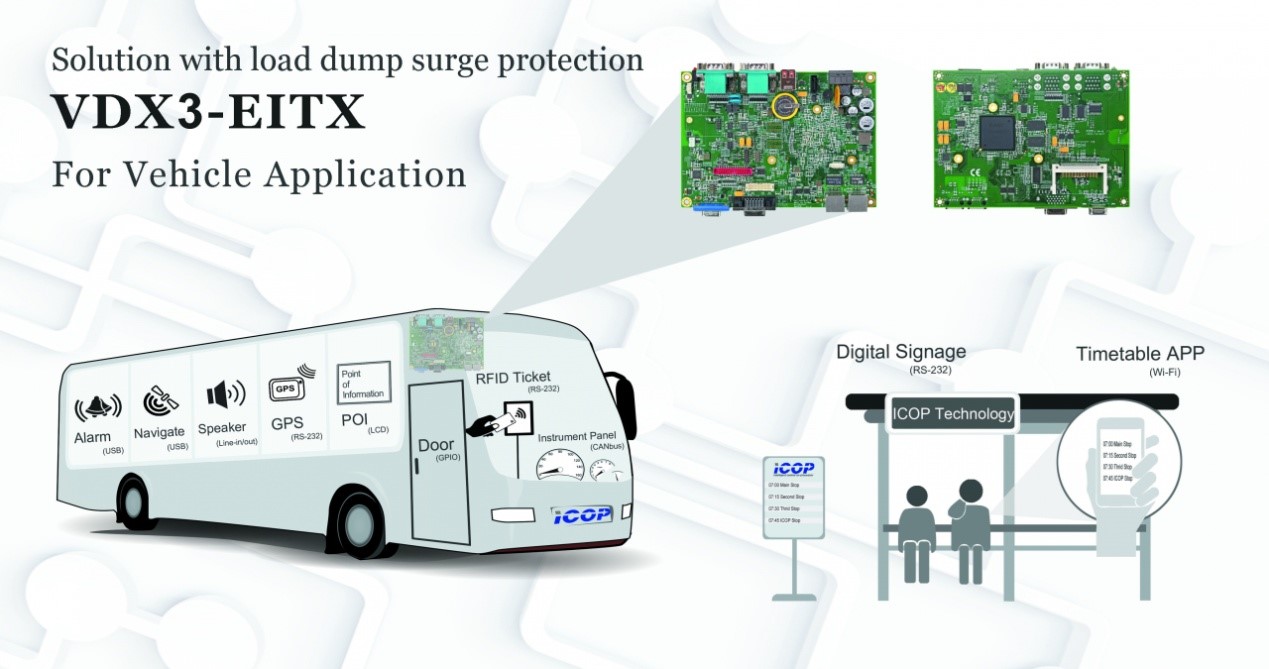 The recommended operating system for VDX3-EITX is Windows 7 (or earlier version of Windows), Windows Instant Operating System, Ubuntu, Debian, VxWorks and QNX. The rich functions of VDX3-EITX are not only configured for public transport systems but can also be used for industrial automation, intelligent vehicle management equipment, data acquisition, robot and machine control, etc.
ICOP has selection of ITX SBC such as Mini-ITX, PICO-ITX and E-ITX. For more information on the ITX Board from ICOP, please visit: here
---