QEC Supports Complete Real-Time Industry 4.0 with Industrial Arduino
QEC uses the hardware foundation of the famous industrial Ethernet technology, EtherCAT. In addition to providing a complete solution for EtherCAT, and also supports the Industrial Arduino's development environment.
Users can go through the 86Duino IDE's rich built-in library of examples, functions, and graphical programming tools to reduce the development time and engineering staff threshold. Besides, users can also use MySQL libraries to build the Big-data database and quickly upgrade to real-time IIoT.
Easy to develop EtherCAT
Most industrial applications require high precision and synchronous operation speed, which is highly complex and has a long development cycle. However, by using the QEC-supported 86Duino IDE (Industrial-Arduino), a dedicated EtherCAT library will provide rich Arduino APIs for programming and EtherCAT system operation.
In addition to common basic functions, such as digital control, analog control, etc., there are also large numbers of open-source function libraries and examples for developers to use, such as Ethernet, SPI, Serial, or Modbus, including the LVGL Lightweight Graphics Library for creating user interfaces and MySQL functions.
Users can also develop their system via the graphical EtherCAT configuration tool, 86EVA (EtherCAT-Based Virtual Arduino), which can be used to configure EtherCAT Master and Slaves quickly.
Lastly, users will be able to develop a complete system by using the ideal QEC Low-Code development platform consisting of the GUI design aid, HMI Editor, and the drag-and-drop program builder, ArduBlock.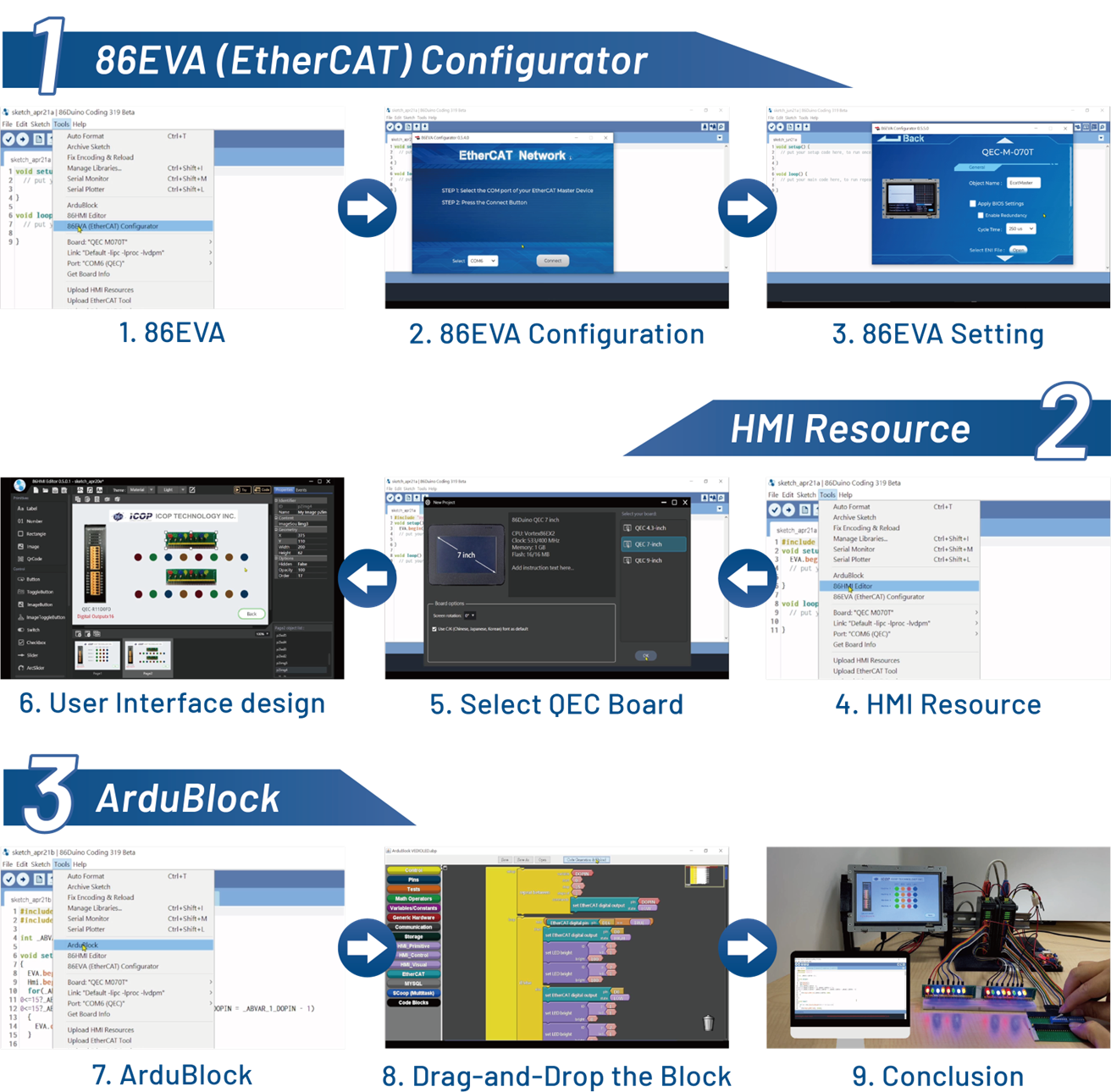 ---